How to Change Teams Background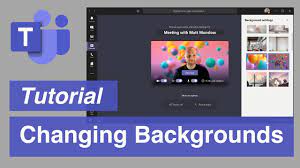 Are you tired of looking at the same plain background during your Teams meetings? Want to add some personal flair to your virtual workspace? Look no further!
This article will show you how to change your Teams background in just a few easy steps. All you need is a computer that meets the system requirements and a few minutes of your time.
Get ready to customize your Teams background and make your meetings more enjoyable. Let's get started!
Reasons to Change Your Teams Background
If you want to personalize your video calls and add a touch of creativity, you can change your Teams background for various reasons.
By changing your background, you can create a more professional setting, especially if you are working from home. You can choose a background that reflects your personality or interests, making your video calls more enjoyable and engaging.
Changing your Teams background can also help you maintain privacy by hiding your actual surroundings. If you have a messy or cluttered workspace, selecting a virtual background can help you present a clean and organized image.
Furthermore, changing your background can be a fun way to celebrate holidays, events, or special occasions, adding a festive atmosphere to your video calls.
System Requirements for Changing Teams Background
To use custom backgrounds in Teams, there are a few requirements you need to meet:
Make sure you have the latest version of Teams installed on your device. This ensures you have access to all the latest features and updates, including the ability to change your background.
You'll need a compatible operating system. Teams background effects are supported on Windows 10 (64-bit), macOS 10.14 or later, and some versions of Linux.
Your computer's processor should be at least a 1.6 GHz dual-core or higher, and you should have a minimum of 4 GB RAM.
For the best experience, it is recommended to have a high-quality webcam and a well-lit environment. This will ensure that your custom background looks great during your Teams meetings.
Step-by-Step Guide to Changing Teams Background
Follow these steps to easily customize the appearance of your Teams meetings:
Open the Teams app on your computer.
Click on your profile picture in the top right corner and select 'Settings' from the dropdown menu.
In the Settings window, choose 'Backgrounds' from the left sidebar.
Here, you will see a variety of preloaded backgrounds to choose from.
If you want to use your own image, click on the '+' sign and select the image you want to upload.
Once you've chosen your desired background, it will immediately appear in your Teams meetings.
You can also preview how it looks against your current surroundings.
With just a few simple steps, you can easily customize your Teams meetings and add a personal touch to your virtual workspace.
Tips and Tricks for Customizing Your Teams Background
Customize your Teams meetings by selecting from a variety of preloaded backgrounds or uploading your own image. With these tips and tricks, you can take your virtual meetings to the next level.
Firstly, explore the preloaded backgrounds provided by Teams. From serene landscapes to professional office settings, there's a background for every occasion.
If you want to add a personal touch, consider uploading your own image. This could be a picture of your favorite vacation spot, a motivational quote, or even a funny meme. Just make sure the image is appropriate for a professional setting.
Experiment with different backgrounds to create a unique and engaging atmosphere for your meetings. Remember, a customized background can make your Teams meetings more enjoyable and visually appealing for everyone involved.
Troubleshooting Common Issues With Changing Teams Background
Having trouble with your Teams meetings?
Let's troubleshoot some common issues when selecting a background.
First, make sure you have the latest version of Microsoft Teams installed on your device.
If you're using a virtual background, check if your computer meets the system requirements for this feature.
Also, ensure that your camera is functioning properly and is not covered.
If you're experiencing a blurry background, try adjusting the lighting in your room or using a solid color background.
It's important to note that some older devices may not support background effects.
If you're still having issues, try signing out and signing back into Teams or restarting your device.
Conclusion
So now you know how to change your Teams background! It's a simple process that can make a big difference in your video meetings.
Whether you want to hide a messy room or add some personal flair, Teams has got you covered. Just make sure your system meets the requirements and follow our step-by-step guide.
And don't forget to get creative with tips and tricks for customizing your background. If you encounter any issues, refer to our troubleshooting section.
Happy background changing!