How to Turn Off Face ID on iPhone 13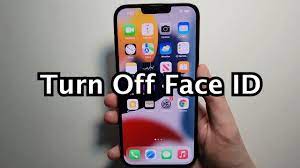 If you are worried that someone can unlock your iPhone with Face ID, you can easily turn off this feature on your device. You can do this in a few seconds and will only be able to unlock your phone with your passcode once again.
The Face ID system in iPhones uses TrueDepth cameras to identify you and use your facial metrics to unlock, approve purchases, make payments, and sign into apps.
1. Go to Settings
You can go to Settings on your iPhone 13 to change a lot of the default settings. For example, you can turn on notification sounds, change your ringtones, and even set up your passcode. You can also use this menu to find out more about your device and how it works.
To get to Settings, tap the settings icon at the bottom of your Home Screen or swipe down from the top of your screen to reveal it. From there, you can change a lot of your phone's default settings by searching for them and then tapping a setting.
If you're using a new iPhone 13, this is the perfect place to start learning how to tweak it and get the most out of it. As well as the main settings, you'll also be able to fine-tune the iPhone's camera and screen, enable Apple Pay for purchases, and more.
For example, you can disable the Face ID feature on your iPhone if you don't want it to unlock your phone when it detects you looking at it. This is a great option if you work in an office, for instance, and would like to prevent employees from unlocking your iPhone without your permission.
You can also change the amount of time that your iPhone's display stays on when you look at it. This can make it a lot easier to read books on Kindle or watch movies in Netflix while you're on the go.
This can be a useful feature for those with eyesight issues, too. For example, if you suffer from poor vision and need to wear glasses, you can enable this feature so that your Face ID isn't locked down when your eyes aren't fully open.
One of the most popular uses of Face ID is to allow you to log into your device and buy apps from the App Store or make in-app purchases, as well as make other purchases with Apple Pay if your iPhone supports it. You can even add an alternate appearance to your Face ID, so that if you have someone else besides you that you trust, they can log into your device and buy things with it too.
If you've ever tried to unlock your iPhone with your face, you'll know that it can be frustrating if you don't have the right facial recognition software running on your iPhone. It can even be a pain when you're wearing a mask, since half of your face is covered and the Face ID technology won't be able to read it.
2. Scroll down to Face ID & Passcode
Face ID is one of the most convenient features on Apple's latest iPhones, letting you secure your device, pay for purchases and sign into apps with just a glance. But if you don't want to share your face with others, you can easily disable Face ID on your iPhone 13 to avoid being targeted by law enforcement and other outsiders.
You can quickly disable Face ID by holding down the side button and either of the volume buttons for a couple of seconds. This way, anyone trying to unlock your phone will have to enter your passcode instead.
While this method is a little more time-consuming than just swiping up to get to the passcode screen, it's still an easy way to disable Face ID if you need to in a hurry. It also won't alert the police or other outsiders that you've disabled it, which is a big bonus.
Besides using Face ID to unlock your iPhone, you can also use it to set your iPhone's alarm and lower its volume by looking at the screen. It's also a handy way to fill passwords in Safari automatically for quick and convenient logins.
However, Face ID can take a while to work when you're wearing sunglasses or glasses. This is because the TrueDepth camera doesn't pick up your mug very well when it's covered with sunglasses or lenses.
This can be frustrating, especially if you're looking for a quick and convenient way to unlock your phone. Fortunately, there's an easy fix that can speed up Face ID on an iPhone 13.
3. Toggle off "iPhone Unlock"
Face ID on the iPhone is one of Apple's most convenient features, allowing users to easily unlock their phone and authenticate to third-party apps like banking, payment, and instant messaging. However, there are times when it may be necessary to temporarily disable Face ID on your iPhone 13 so that law enforcement and other outsiders can't use it to gain access to your device.
Thankfully, it's easy to do this quickly and without anyone being any the wiser. Simply press and hold the side button and volume up/down buttons for a few seconds, and Face ID will be disabled until you enter your passcode.
If you want to permanently turn off Face ID, head into Settings and scroll down to Face ID & Passcode. Here you'll find a gray toggle, which indicates that the feature is turned off. Whenever you want to turn it back on, just tap the toggle and select it.
Another new feature introduced with iOS 15.4 is the ability to disable "attention detection." Basically, this means that the TrueDepth sensors on your iPhone will still unlock your phone when it detects you are looking at it, but will ignore the area directly in front of your face that would normally be covered by a mask.
For most users, this is a great improvement and will make unlocking your iPhone easier if you're wearing a mask. But some people have found that the feature doesn't work properly or even fails to unlock their phones all together, so if you're experiencing that problem, here are some steps to try to fix it.
First of all, check that your Face ID is set up correctly. In addition to a green face icon, you'll also see an option labeled "iPhone Unlock."
Next, ensure that iTunes & App Store and Wallet & Apple Pay are both toggled on. If they aren't, you'll need to add those apps to Face ID so that you can use them when making purchases.
Finally, you should also make sure that Password AutoFill is enabled for all of the apps that you want to be able to use Face ID with. If this isn't the case, you can enable it by heading to Settings and scrolling down to Face ID & Passcode and tapping Other Apps.