How to Turn on Lock Screen on iPhone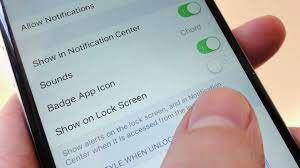 Apple gives you lots of options to customize your iPhone's lock screen and home screen. These settings help keep your personal information safe, so nobody else can view what's on your screen until you unlock your iPhone.
The lock screen also lets you add widgets above and below the clock that display weather, reminders and more. Plus, you can edit your photo with curated wallpaper styles like black and white or duotone.
How to turn on the lock screen
Until recently, the iPhone's lock screen offered little more than the time, date, and any notifications currently running. To access anything else, a user had to unlock their phone. These days, however, the lock screen can be a lot more customizable.
If you're looking for some quick, easy customizations, Apple offers a few options in the Settings app. You can choose a wallpaper, which will show on the lock screen in addition to your notification center and Siri shortcuts. You can also choose to disable the click sound that happens when you lock your phone, which many people find annoying.
You can also add a few helpful widgets to your lock screen. These appear in the thin space above or below your clock, and you can place up to four (or none at all, if that's what you want). To add or remove them, just tap where it says "Add Widgets". You can move these around too, by dragging them to the location of your choice.
Finally, you can set the time and date, and customize the font style and color. You can even make the digits opaque! There are lots of other settings you can tweak, including turning on Medical ID from the lock screen (which could potentially help a person save your life in an emergency).
It's also worth noting that iOS lets you decide what other features will be accessible from the lock screen. By default, this includes Today View, Spotlight Search, and the camera and flashlight functions. You can also disable any feature you don't want to be available from the lock screen — though that may not be a great idea, given that anyone with your iPhone will have access to any personal information it might contain, like upcoming events in your Calendar widget.
The screen lock on your iPhone is a necessary security measure. It protects your data from prying eyes, and it makes using the phone a more pleasant experience. There are times, however, when you might want to disable the lock screen, for example if you're giving it away to someone else. To do so, you'll need to use iTunes on a computer.
How to turn off the lock screen
There are a number of reasons why you may want to disable the iPhone lock screen. Perhaps you're getting a new phone and don't want to carry the extra security burden, or maybe you're giving your old one away and would like to remove the lock screen so that the next user has access to all of your data. Whatever the reason, disabling the lock screen on your iPhone is easy enough to do with a few quick steps.
First, you'll need to open the Settings app on your iPhone. From there, tap "Wallpaper" and then select the "Choose a Wallpaper" option. Here, you'll be able to pick from a variety of different options, including Apple's Still and Dynamic wallpapers, as well as custom photos from your camera roll. Once you've chosen a wallpaper, you can either set it to the Lock screen or Home screen, or both.
You can also customize the look of your Lock screen by changing its photo, and adding widgets to it. If you have a Medical ID on your iPhone, for instance, you can add this to the Lock screen so that you can quickly contact your doctor or health care provider if needed. There are also other useful widgets you can include, like a flashlight and calendar.
Another way to customize your Lock screen is by visiting the Settings app and tapping "FaceID & Passcode." From here, you can decide whether or not you want your iPhone to be unlocked with the press of a finger on the Home button or if you want to use Face ID to unlock it. You can also configure the amount of time you'd like your iPhone to stay unlocked before it automatically locks itself.
Finally, you can enable or disable a number of features that are available from your Lock screen, such as Today View and Spotlight Search. However, it's advisable to keep these functions off, as they're accessible to anyone who picks up your iPhone and opens it. This is especially important if you have young children or other people living with you who may want to quickly access certain functions without entering your password.
How to set a passcode
A passcode is an easy and effective way to prevent unauthorized access to your iPhone. It's a six-digit code by default, but you can change it to a four-digit numeric code or a custom alphanumeric password. If you ever forget your iPhone passcode, or if you accidentally enter the wrong passcode too many times, it will disable your phone. If you have a recent backup, you can restore your iPhone and its settings. However, if you don't have a backup, you'll need to reset your phone to its factory settings to access it again.
You can also set a passcode on the iPhone's Control Center. This allows you to quickly and easily access features such as the flashlight, connectivity settings, and more. This option can be especially useful if you have a public or shared device. To turn on this feature, open the Settings app and navigate to Control Center. Tap the toggle switch next to the desired function.
In the early days of iOS, the Lock Screen only provided access to the time and date, any notifications, and the Camera and Flashlight functions. But today, the iOS operating system offers optional access to several other functions, including Today View, Spotlight Search, and Voice Dial.
While these options are useful, they can be a security risk. If someone knows your passcode, they could use these features to access private information or even perform a remote wipe of your phone. To prevent this, you can lock these functions from the lock screen by navigating to Settings and selecting Face ID & Passcode. Scroll down to the bottom and find "Turn Passcode Off," then select it.
You can also restrict the apps that can be used from the lock screen with a Guided Access setting. This feature is similar to a passcode, but it is only valid for a specified time and isn't tied to your passcode. To activate this feature, triple-click the side button on iPhone X or later, or the home button on iPhone 8 and earlier. A window will appear that will let you select an app, then a timeframe within which you want the app to be available. Once you've selected a time, follow the onscreen instructions to activate Guided Access.
How to disable the lock screen
The lock screen of your iPhone is the first thing you see when you pick up your phone. It is designed to protect your personal information and prevent others from accessing your device. However, it can also be used to display a variety of different things. For example, you can use your lock screen to show your calendar events or to view a map of your location.
You can customize your lock screen by selecting the image that you want to appear on it and tapping "Edit". Then, you can select a widget from the list of available options and drag it to the area where you want it to be displayed. You can also adjust the size of the widget and its position on the screen. You can even add more than one widget to the same screen.
In early versions of iOS, an iPhone's lock screen only provided users with access to the time and date, notifications, and camera and flashlight functions. If you wanted to access other features, such as the Today View or Spotlight Search, you would have to unlock the iPhone.
With iOS 16 and later, the lock screen offers additional customization and security features. You can choose to disable certain features on the lock screen, such as the camera and flashlight functions, or you can choose to enable the Notification Center and Control Center. You can also set your iPhone to auto-lock at a specific time, instead of when you press the Home button.
Another feature you can use to keep your iPhone secure is the Screen Time settings. This allows you to limit the amount of time your iPhone or iPad spends in the lock screen and the apps that can open when the phone is locked. This way, you can make sure that your children do not spend too much time on their devices.
You can also prevent unwanted screen activity by disabling the "Allow Access When Locked" setting in the Notifications menu. This will prevent the ability for other users to access your notifications or your private apps. If you don't want to lose this feature, you can turn it off by visiting Settings > Face ID & Passcode (or Touch ID & Passcode for older models). You will then be prompted to enter the registered passcode when you press the Home button.