How to Turn on SMS Relay on iPhone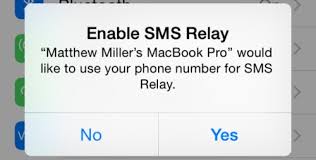 Apple has recently added SMS Relay, which allows Macs and iPads to receive SMS messages sent from other devices. Previously, Macs and iPads could only send iMessages via Apple's proprietary messaging service.
The new feature enables users to answer calls and SMS messages from their Macs, even when their iPhones are charging or otherwise out of reach. It's one of the new features of iOS 8.1 and OS X Yosemite's Continuity.
Continuity
SMS relay is one of the latest Apple Continuity features that have made their way into OS X Yosemite and iOS 8.1. This new feature allows you to receive and respond to text messages sent to your iPhone, iPad and Mac with just a few clicks of the mouse.
It's a great way to stay connected to family members and friends while you are working on your Mac. It's also a great tool for business professionals who need to get a hold of their clients quickly without having to search their phones.
With Continuity, users can send and receive text messages from their iOS devices with the built-in Messages app on their iPad or their Mac. The SMS relay feature works by linking the iMessage accounts on both the iOS and Mac devices, and then encrypting and forwarding incoming SMS and MMS text messages.
However, there are a few things you should know before you start using SMS relay on your iPad or Mac. First of all, you should make sure that you are signed in to the same iCloud account on both devices. You can check this by opening up the Messages app on your iOS device and then going to Settings – iMessage and making sure that you are signed into the same iCloud account.
Once you've done that, you should open up the Messages app on your iPad or Mac and then tap on Settings – iMessage and select Text Message Forwarding. This will give you a list of all the other devices that are linked to your iCloud account, and you can decide which ones you want to receive the SMS messages.
After that, you should enter the activation code onto your iPhone when prompted by the Messages app on your iPad or your Mac and you should then be able to receive text messages from your iPhone. This will work seamlessly on all of your devices and you won't have to worry about searching for your phone while you are working.
iCloud
SMS Relay is a new feature in iOS 8.1 and OS X Yosemite that allows users to receive text messages from people who use non-Apple devices. Previously, conversations with friends who didn't use Apple devices would appear in green bubbles on your iPhone and iPad or Mac, but they wouldn't sync over to the other device.
iCloud is a free cloud-based storage locker that stores photos, videos, documents, and apps on Apple servers. It also keeps all your messages, photos and other data updated across all of your devices. It is available for iPhone, iPad and iPod touch.
You can enable iCloud on any of your Apple devices by signing in with the same Apple ID and password. Once you've done that, all your devices will be backed up automatically daily. You can also manually back up your device by tapping "Back Up Now" in the iCloud settings.
This is a great feature to have especially if you have a family with multiple members using different devices and the whole family is logged into the same Apple account for iCloud. This way they won't have to worry about losing their data.
To turn on sms relay, go to Settings > Messages and tap on the 'Send as SMS' toggle. This is disabled by default.
If your iCloud and Messages services are down, the default Messages app will send texts as normal SMS. If you're on a carrier plan with limited SMS, this can cause problems. You should check with your carrier to see if they support this feature and to get an idea of messaging rates.
Wi-Fi
SMS relay on the iPhone allows you to answer incoming text messages sent from other Apple users. These text messages are delivered via iMessage over a Wi-Fi network and do not count against your monthly text message allowance, so you can save money by avoiding texting through your mobile carrier.
The service is available on all iOS devices, including the latest iPhone and iPad models. It uses your Apple ID or a mobile phone number to establish an account and then routes SMS text messages over the Internet to other Apple users.
To turn on sms relay on your iPhone, visit Settings > Messages and scroll down to the bottom of the screen. Tap "Enabled." A four-digit code will appear on each device that you've enabled for SMS relay. You can enable or disable devices as needed.
Once you've turned on sms relay, any incoming text messages will be forwarded to your Mac or iPad automatically through iMessage. This feature is part of Continuity, which integrates the iPhone and Mac running iOS 8.1 and OS X Yosemite and allows you to answer calls and send and receive SMS messages.
With iMessage, when you send and receive messages from people who use Apple devices they appear in blue bubbles that sync across all your devices. Before iMessage, people who used Android or non-Apple devices could only send and receive texts in green bubbles that would not sync with your Mac, iPad or iPod Touch.
Through iMessage, you can also send MMS messages to anyone with an iPhone or iPad who supports MMS messaging. This includes both business and personal contacts, and is free of charge to Apple users.
Bluetooth
Bluetooth is a wireless technology that allows devices to communicate over short distances without using wires. It is used for a variety of purposes, including connecting wireless keyboards and mice to a computer, transferring files and playing music between devices, and connecting mobile phones to car stereo systems and headphones.
Bluetooth devices have two parts: a radio device that transmits signals, and a digital controller that interfaces with the host device. A Bluetooth device may also have a MAC address that lets other devices know where to find it.
There are many different ways to use Bluetooth; it's often integrated into almost any technology you can think of. For example, doctors give their patients health monitoring devices that can connect to a phone and send real-time updates. Other uses include a keyless entry system and a smart home, where a number of devices connect to the same network.
Another common use of Bluetooth is Bluetooth tethering. This is when you can use your smartphone as a Wi-Fi hotspot, so that you can share that connection with other devices, such as printers or computers.
However, you should always follow the manufacturer's instructions when using Bluetooth to avoid any problems. The most common issue is the fact that Bluetooth can't reach your devices if they're too far away from each other or if there are walls or other obstructions between them.
This is because the device's radio signal is constantly being attenuated by the walls, and the transmission power of the Bluetooth signal is limited to a few milliwatts. This is why it's important to keep your phone near any devices you want to pair with, so that the wireless signal can be as strong as possible.